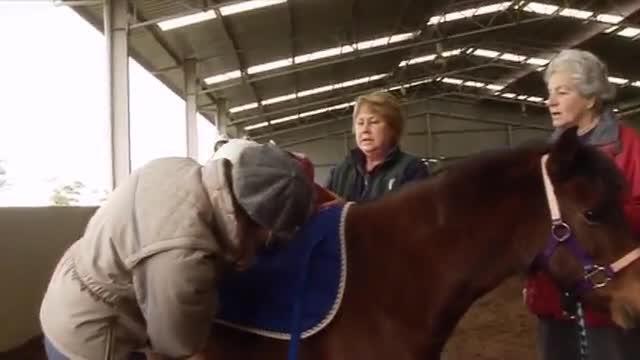 Rent this film for $4.99
This unusual film explores the intersection of therapy and social science research, while offering a joyous look at the experiences of three children with cerebral palsy as they grow in self-confidence and physical capability through participation in "hippotherapy," an increasingly popular form of physiotherapy through riding horses.
Hippotherapist Barbara Heine argues that horses' gaits mimic the human gait for children who are unable to walk independently, and that this helps them to improve balance and strength. In a study led by an orthopedic surgeon at Melbourne's Royal Children's Hospital, researchers from the Deakin University School of Physiotherapy and Riding for the Disabled set out to see if they could measure the physical and emotional benefits of riding for children with various levels of cerebral palsy. They recruited more than ninety children and their families, and sixty volunteers (as well as over twenty-five horses.)
More Than Horseplay focuses on Lachlan, aged eleven; Georgia, five; and Angus, who is just four years old. Although an outbreak of equine influenza in the middle of the study places the research project in jeopardy, by the end of the study the children are visibly riding with confidence and sheer joy as they experience the closeness and warmth provided by the horses — as well as the caring and supportive staff. For some the transformation has been physical and for others poignantly emotional, but they share a common dream — to keep on riding.
Finalist, National Disability Awards, Australia